Easy check for malware or spyware
How do you know if your Windows computer has malware or spyware? Here is a easy check for malware or spyware on your Windows computer, broken down in easy to follow steps:
On your keyboard, hold in both of the keys CTRL and Alt and then press the Delete button. If done correctly, you will get a new screen that has options such as Lock, Switch user, Log Off and Task Manager. (You can let go of the CTRL and Alt keys now, by the way). Another way is to right click on an open space on your taskbar (the bar to the bottom of your screen). See photo
Please select the Task Manager in this screen. You will get a new window that looks very similar to the picture below
A very easy way to check if your computer might have malware or spyware, to the bottom of the Task Manager window (see picture) has Processes, CPU usage and Physical Memory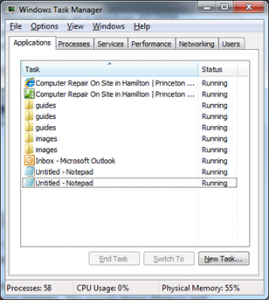 If the CPU usage is rather high (75% or higher), and you are not doing anything too taxing on your computer, such as just checking your mail or browsing Facebook, then there is a chance that you might have malware or spyware, or maybe even a virus. It could also be nothing sinister, such as your anti-virus scanning your computer to keep it safe, or Windows Update installing the latest updates from Microsoft.
Best way to be sure is if you have an Anti-virus program installed, run a Full system Scan. This can normally take anywhere from a few hours to a day, so it is best to run the Full System Scan at night before you go to bed. If you do not know how to, or not even sure if you have an anti-virus program, then you can also send us a request to take a look for you. Or you can use the contact form to send us a message and we can contact you back. We can assist you using TeamViewer and have a look into your computer, and even show you how to do so for yourself for the future.
And since your private information, banking and credit information, private and personal pictures and all of your documents can be compromised if your system is infected, it is always better to be safe than sorry.